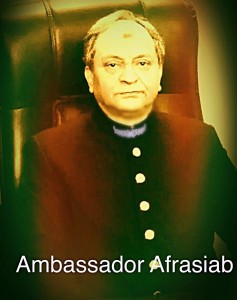 Mian Afrasiab Mehdi Hashmi Qureshi
Mr. Afrasiab joined the Foreign Service of Pakistan in 1984. He belongs to Muzaffargarh۔ He has done postings in the Embassies of Pakistan in Washington DC (Third Secretary from 1987-1991) and Beijing (Minister from 2003 to 2006). In between, he served as Pakistan's Alternate Permanent Representative to the IAEA in Vienna from 1997 to 2000.
Mr. Afrasiab served as First Secretary in the High Commission of Pakistan in New Delhi (1994-1997). Later, he served as Deputy High Commissioner of Pakistan to India from 2006 to 2009.
At the Headquarters in Islamabad, Mr. Afrasiab has been dealing with matters relating to the United States, as Director Americas; and India, as Director General (South Asia). Earlier, he was appointed Staff Officer to the Secretary General, Foreign Affairs.
Mr. Afrasiab served as High Commissioner of Pakistan to Bangladesh from 2011 to 2014. He was also concurrently accredited as Ambassador of Pakistan to Bhutan.
Ambassador Afrasiab worked as Additional Foreign Secretary in the Ministry of Foreign Affairs, from October 2014 to April 2016.
He assumed charge of the Pakistan Mission in Wellington as High Commissioner to New Zealand in April 2016. He is concurrently accredited to Samoa, Tonga and Kiribati.
Books written by Ambassador Afrasiab, include, 'US Relations with South Asia and Pakistan-India Interaction-1492- 2002,' published in 2000.
His 'Encyclopaedia' on Pakistan's interaction with China, US and India, was published in 2013. His book titled, 'Ancient and Contemporary Pakistan' was published in 2015.
Ambassador Afrasiab has also written on other subjects including the US Foreign Service, Theology and Face-Reading.