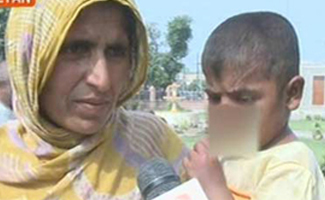 Landlord sets dogs on 4-year-old girl in Muzaffargarh
Landlord sets dogs on 4-year-old girl in Muzaffargarh
MUZAFFARGARH: A landlord in Muzaffargarh set his ferocious dogs on a minor girl for picking onions from his field, Media reported on Monday.
The incident took place two weeks ago, when the landlord turned his dogs on the four year old girl, critically injuring her when the vicious animals bit her nose, said sources.
According to the report, the girl is currently under treatment at the burn unit of Nishtar Hospital where doctors have advised plastic surgery to reconstruct the girl's deformed nose.
The father of the victim said that police have not registered a case against the land owner as yet.
Chief Minister Punjab Mian Shahbaz Sharif took notice of the incident. He has ordered prompt action against the perpetrators. He has also instructed the hospital management to provide the best medical care and treatment to the young victim.