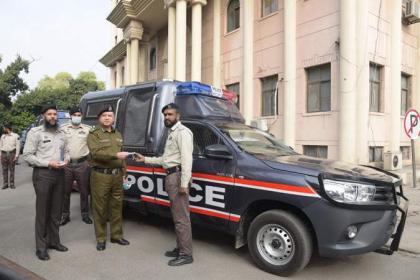 DPO Visits Posts To Check Police Preparedness

style="display:block" data-ad-client="ca-pub-4163322924037420" data-ad-slot="3714019811" data-ad-format="auto" data-full-width-responsive="true">

MUZAFFARGARH, (Muzaffargarh.City – 1st Feb, 2023 ) :District Police Officer  (DPO) Muzaffargarh Ahmad Nawaz Shah paid a visit, on Wednesday, to police posts set up in riverine areas of the district and checked the preparedness of police Jawans, their weapons and safety accessories.

During the visits of police posts Bait Maitla, Lundi Pitafi and Rampur, DPO received briefings from officials deployed there, examined their weapons, bullet proof jackets, fitness  of vehicles and ordered them to be fully alert to deal with the anti-social elements.

DPO also heard their problems and promised to resolve them. He said that policemen deployed at riverine area police posts have been provided residential accommodation with all facilities at the posts and asked them to perform their duty with dedication.