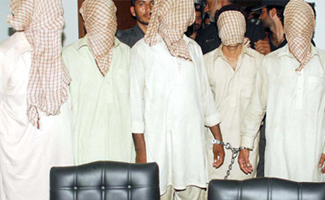 Police arrests six criminals in gang-rape case; CM takes notice
Police arrests six criminals in gang-rape case; CM takes notice
MUZAFFARGARH: Police claimed to have arrested six suspected criminals involved in a gang rape case.
According to medical report, the gang-rape with a widow woman has not yet been confirmed, said police.
According to sources, the terrible incident occured on January 26th in a village located in Muzzaffargarh Punjab.
Punjab Chief Minister Muhammad Shahbaz Sharif has taken strict notice of the alleged rape of a widow woman on the order of a Punchayait in Muzaffargarh and sought a report from Regional Police Officer Dera Ghazi Khan.
The Chief Minister said that stern action would be taken under the law against the culprits involved in this sad incident.