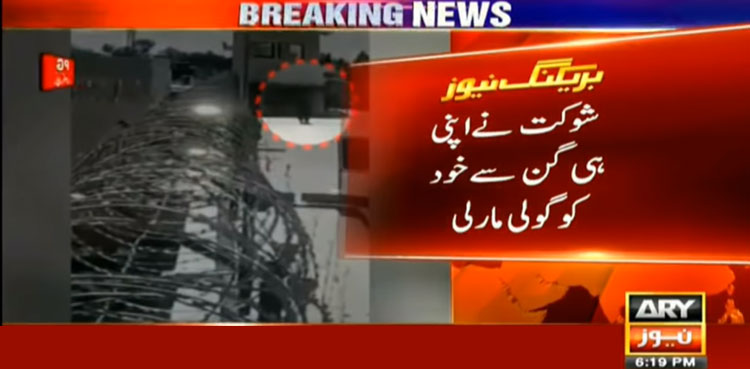 Security guard commits suicide after reportedly being denied days off
MUZAFFARGARH: A security guard in Muzaffargarh committed suicide by shooting himself in head reportedly after he was denied days off, ARY News has learnt.
The incident took place last week on April 5 in Qasba Gujrat area of Muzaffargarh, and the CCTV footage acquired from the oil company where the deceased security guard was deployed has brought the matter to light.
As per details, Shaukat handed over his mobile phone and some cash to his colleagues sitting inside the office. He then came out and shot himself with his official gun, bringing an end to his life.
The disturbing footage shows Shaukat walking out of the office and then a snippet from another camera shows him falling down amidst smoke from his gun.
His colleagues are then seen rushing towards him.
Shaukat's colleagues while talking to ARY News have said that he killed himself after he was denied days off by the management. They also alleged that he was severely disheartened due to the behaviour of his higher-ups.
On the other hand, police have maintained that Shaukat was under constant stress due to unfavourable situations at home.
So far, no one from Shaukat's family has reached out for registering a case against anyone.
It is worthwhile to note that security guards are one of the most underpaid and overworked personnel in Pakistan's workforce.
Majority of them are not trained to be a security guard but do their duty for a meagre amount of money, often working as much as 16 hours a day.