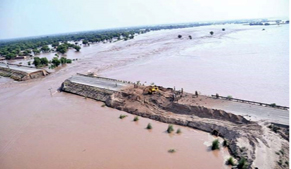 Muzaffargarh-Multan road link restored
Muzaffargarh-Multan road link restored
MUZAFFARGARH: The road link between Muzaffargarh and Multan was restored temporarily as it remained suspended for nine days due to ferocious floods.
The administration of Multan as well as Muzaffargarh made breaches at different points to avoid flood devastation.
National Highway along with Pakistan army introduced a temporary bridge near Shershah which restored road link between Multan and Muzaffargarh.
Similarly, another temporary bridge was introduced near Bhuttapur. Light vehicles including vans, cars and motorcycles are passing through the bridges.