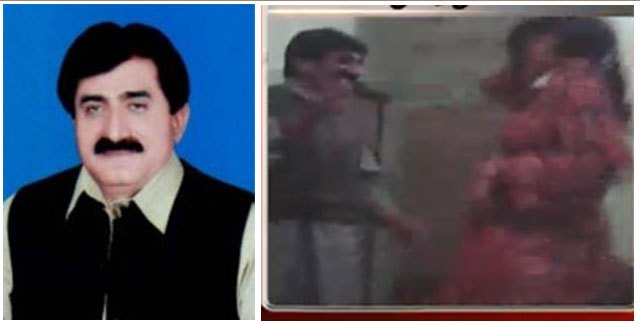 MPA Alamdar Qureshi's controversial video hits Pakistani media
MUZAFFARGARH: A controversial video shockingly emerged in media showing an alcoholic dance party organised on an unknown location in Pakistan and being enjoyed by a Pakistan Muslim League Nawaz (PML-N) lawmaker Alamdar Qureshi.
Mian Alamdar Abbas Qureshi is a Pakistani Member Provincial Assembly (MPA) from PP-255 constituency of Muzaffargarh district located in Punjab province.
Qureshi could be seen easily in the controversial video as he was dancing and motivating a girl making twerking moves in 'Punjabi Mujra' style while two men were also sitting in same room.
The dancing girl showered with prize money over her dancing moves and got a slight dancing partnership with the provincial minister.
According to a local news channel Samaa News, the lawmaker was drunk at the time as the wine bottle can be seen clearly in the video.
It should be mentioned that a member national assembly (MNA) Jamshed Dasti from the same area had alleged that some lawmakers are involved in immoral activities at parliament lodges.
Chief Minister of Punjab, Shahbaz Sharif, took notice of the matter and ordered the authorities to produce a video copy related with the PML-N minister Alamdar Abbas Qureshi.
The video spread across all Pakistani news channels in minute after its emergence and Samaa News raised questions regarding the lawmaker's oath under Pakistani Constitution.
Source: The News Tribe