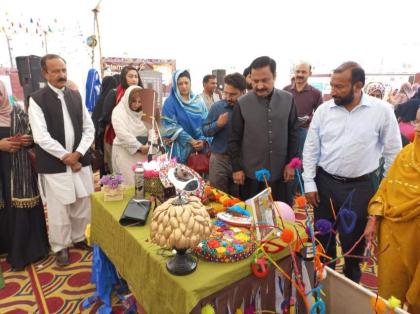 DC Muzaffargarh Stresses Promotion Of Women Entrepreneurs

style="display:block" data-ad-client="ca-pub-4163322924037420" data-ad-slot="3714019811" data-ad-format="auto" data-full-width-responsive="true">

Muzaffargarh: (Muzaffargarh.City-March 9th, 2023) Deputy Commissioner Muzaffargarh Agha Zaheer Abbas Sherazi on Wednesday said women entrepreneurs of this district were full of talent and promoting them was the key focus of the of his administration so that they play a more effective role in the economic development of the country.

He was addressing a seminar organised by Social Welfare Department with reference to International Women's Day. He said islam gives equal rights to women and there was discrimination against women in Islam. He cited example of Holy Prophet (PBUH) who gave utmost respect and honour to his daughter Bibi Fatima (SA), who was a symbol of simplicity, generosity and love. Agha Zaheer Abbas Sheraz lauded Deputy Director Planning Annam Hafeez who is playing proactive role in the development of the district.

The DC appreciated the efforts of women entrepreneurs for producing quality products in the district and assured them that the administration would work for their further facilitation. He also appreciated Social Welfare Department for providing a platform to the women entrepreneurs for display of their products.

He also visited the exhibition and appreciated the products displayed by the women entrepreneurs. He also assured them that he would make more conducive environment for women entrepreneurs for better growth of their businesses. Agha Zaheer Abbas Sherazi said promoting women entrepreneurs was an important priority of his administration and he would try to organise training programmes for women entrepreneurs so that they could use online platforms to promote their business at national level. The exhibition featured embroidered rugs, table runners, furniture, gems and jewellery, clothing for women and children, gardening items, pottery, paintings, footwear and women's health and hygiene, and publications. Population Welfare Department also set up stalls for awareness regarding birth control.

Assistant Commissioner Nasir Dogar, DO Population Farzana Kausar, Deputy Director Social Welfare Dr Nasir , civil society representative Malik Khair Muhammad Budh and others were also present on the occasion.